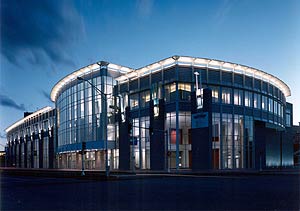 Seminar Schedule




10:00 - 10:45

10:45 - 11:30

11:30- 12:30


12:30 - 1:30

Room D

Food bioactive compounds

Plant Proteins: Moving to the Center of the Plate

Lunch

Break

Sustainable by Design

Room E

FT-NIR

Food Safety: Audit Ready at all Times



Sustainable By Design:
Create Value for your Business and Customers

Bill Shea, Australis Aquaculture

Sustainability is a buzzword that we hear quite often today, but what does it really mean in today's food marketplace and for your business future? In this session, Bill Shea from Australis Aquaculture, a Massachusetts-based startup that became the world's largest barramundi fish farm, will speak to the challenges, opportunities, and value of designing and operating a sustainable food business from the ground up. Learn about where sustainability credentials matter (and where they don't), and key questions to ask your organization today to help them prepare for the future.

to

For the past 25 years, Australis VP of Sales Bill Shea has dedicated his career to many aspects of the food industry. His experience in sales, marketing, category management, and sales force management has spanned multiple channels and categories, including positions in manufacturing (Scott Paper, Ocean Spray), retailing (Shaw's/Star) and distribution (Sid Wainer & Son). Today, he's the go-to guy for our foodservice and retail customers looking to grow their businesses with our barramundi products.

Food Safety - Be audit ready at all times

Craig Michelsen
Food Safety and Quality Services, Inc.


Food Safety Culture - why it's important

Common short-falls of Food Safety & Quality Systems

Common audit findings and how they relate to culture

Strategies to achieve Food Safety Sustainability

Bio

Plant Proteins: Moving to the Center of the Plate


Rody Hawkins, PhD, President and CEO
Improved Nature LLC

The global plant based meat market is about $4.6 billion with an annual growth rate of 6.8%. This demand has created frozen 'Plant Proten' sections in most supermarkets and now they are moving to the refrigerated case. While these products are getting closer to meat, can they replace meat for flavor, nutrition, versatility and texture? The answer is yes and this is what we are doing every day at Improved Nature.

Dr. Rody Hawkis has over 30 years of experience in developing and implementing new food products, solving complex problems for many large, medium and small food companies. He has done contract work for over 100 different food companies and worked for two fo the largest US food companies: Oscar Mayer Foods (a division of Kraft-Heinz) and ConAgra Foods. For Oscar Mayer in the 1980s he created the concept and product known as 'Lunchables' and for ConAgra in the late 1980s through the 1990s he developed the technology that led to the growth of the meat snack market. Using this knowledge he developed shelf stable rations for the US Military, NATO Militaries and UN feeding programs.
Rody and his business partners have now turned their attention to developing and implementing new food products from plants. Improved Nature was established in 2014 and has a proprietary technology that allows it to make fibers out of plant protein. The technology is so flexible, efficient, sustainable and cost-effective that it can seamlessly replace meat products without giving up any of its perceived benefits.


Food bioactive compounds: antioxidants in vegetables and polyunsaturated fatty acids in fish oil

Ting Sun, Framingham State University

Asparagus has the highest antioxidant activity among commonly consumed vegetables and Salmon byproducts contain high levels of essential fatty acids such as EPA and DHA. The limited shelf life of asparagus and oils from byproducts of Atlantic farmed salmon makes them good symbiotic candidates for preserving bioactive compounds. The talk focuses on the optimal extraction of antioxidants in asparagus and their utility in preserving polyunsaturated fatty acids derived from fish oil.

photo


Ting Sun is a postdoctoral research associate in the Department of Chemistry and Food Science at Framingham State University working on chemical changes of UHT milk related to their shelf life. She obtained a Ph.D. in Food Science with a minor in Analytical Chemistry from Washington State University and a Master Degree in Food Science from the University of Washington. She has several years of research experience in the field of food chemistry and studying functional compounds in food. Her past research is mainly on food bioactive compounds, such as antioxidants and polyunsaturated fatty acids in food.

FT-NIR...Increasing Efficiency and Productivity in Your Lab

Shannon Richard, Bruker Optics

Many components that are typically measured by wet chemistry analytical techniques in the Food and Ingredient Industries can be readily transferred to FTNIR. Discussion will include this wide range of applications as well as what to consider when creating FTNIR methods.

photo

Shannon Richard is currently the Northeast Regional Sales Manager For Applied Spectroscopy at Bruker Scientific LLC. She has over 25 years of instrument and analytical chemistry experience in Molecular Spectroscopy that includes Chemical Manufacturing, Product Marketing and Management, and Product Development. She is now focused on face to face customer interactions for FTNIR in the Food and Agricultural space, delivering the right solutions to her customers.